7 Steps to Improve Your Website's SEO Ranking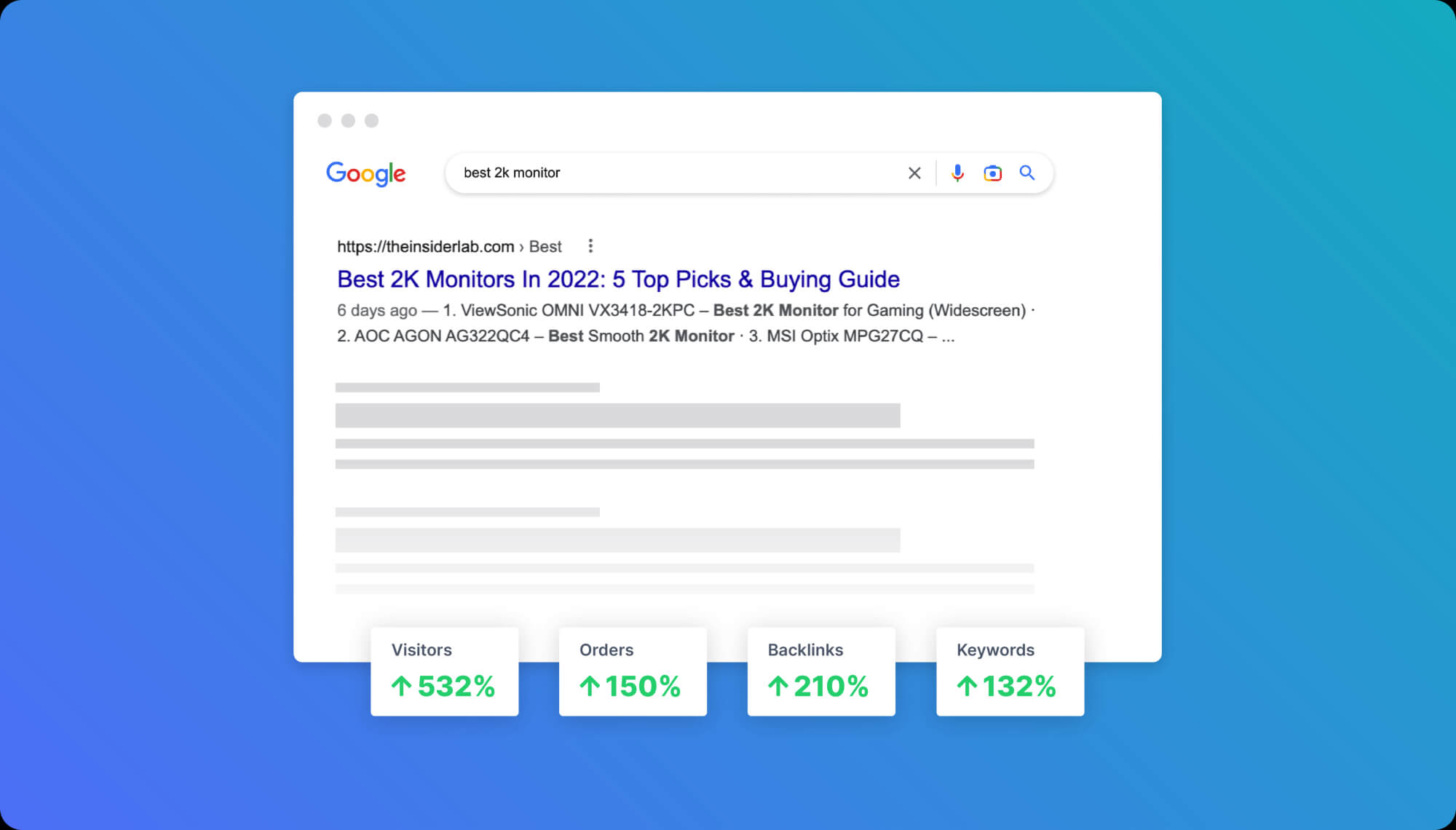 If you are interested in Internet Marketing (IM) but have never worked on SEO, now is the perfect time to start learning the basics of web SEO. Whether you have an E-commerce website, personal blog, or informational website, it's crucial to achieve a high ranking if you want customers to find the products or information you are sharing.
So, how do you start implementing SEO for your website? In this guide, I will walk you through seven fundamental steps to develop and launch your first SEO strategy.
How to do SEO for a website
If you've recently created your first website and you're eager to have it discovered on Google, allowing you to share your thoughts and views with a wider audience, there are seven essential steps you should take right away. These steps will help improve your website's visibility in search engines, particularly in Google search rankings.
1. Make sure your website is on Google's index
Do a site: search for your site's home URL. If you see results, you're in the index.
For example, a search for site:onepixelmedia.com returns these results.
The Search Essentials serve as a guide to constructing a website that is optimized for Google's search algorithms. Although we cannot guarantee that our crawlers will automatically discover every site, adhering to the Search Essentials can increase the likelihood of your site appearing in our search results.
Google Search Console offers valuable tools to assist you in submitting your content to Google and monitoring your performance in Google Search. Additionally, Search Console can notify you of critical issues that Google encounters with your site. Sign up for Search Console to take advantage of these features.
Remember, submitting your website to Google doesn't guarantee immediate or high rankings. It may take some time for Google to crawl and index your website's pages. Focus on creating high-quality content, optimizing your website, and building backlinks to improve your chances of ranking higher in search results.
2. First Link
Google needs to know your site exists. And, for Google to know about your new site, you need at least one external link to your site.
The reason for this: Google crawls the web. It follows the links and stores all the web pages it finds in a very large database called the index. So if you want to get into that index, you need (at least) an external link.
You can add the URL (yourdomain.com) of your website to your personal profile on social media sites (Facebook, Instagram, etc.), to lead the first link to your website.
3. What content do you want to rank for?
You should attract the right audience to your website. Who are your customers? Who did you build this website for? What terms do your customers use when searching on Google? And what is their search intent, what kind of content are they looking for? Learn as much as you can about your target audience.
Example: You go to Google and search for "SEO service Vietnam" and see One Pixel Media website: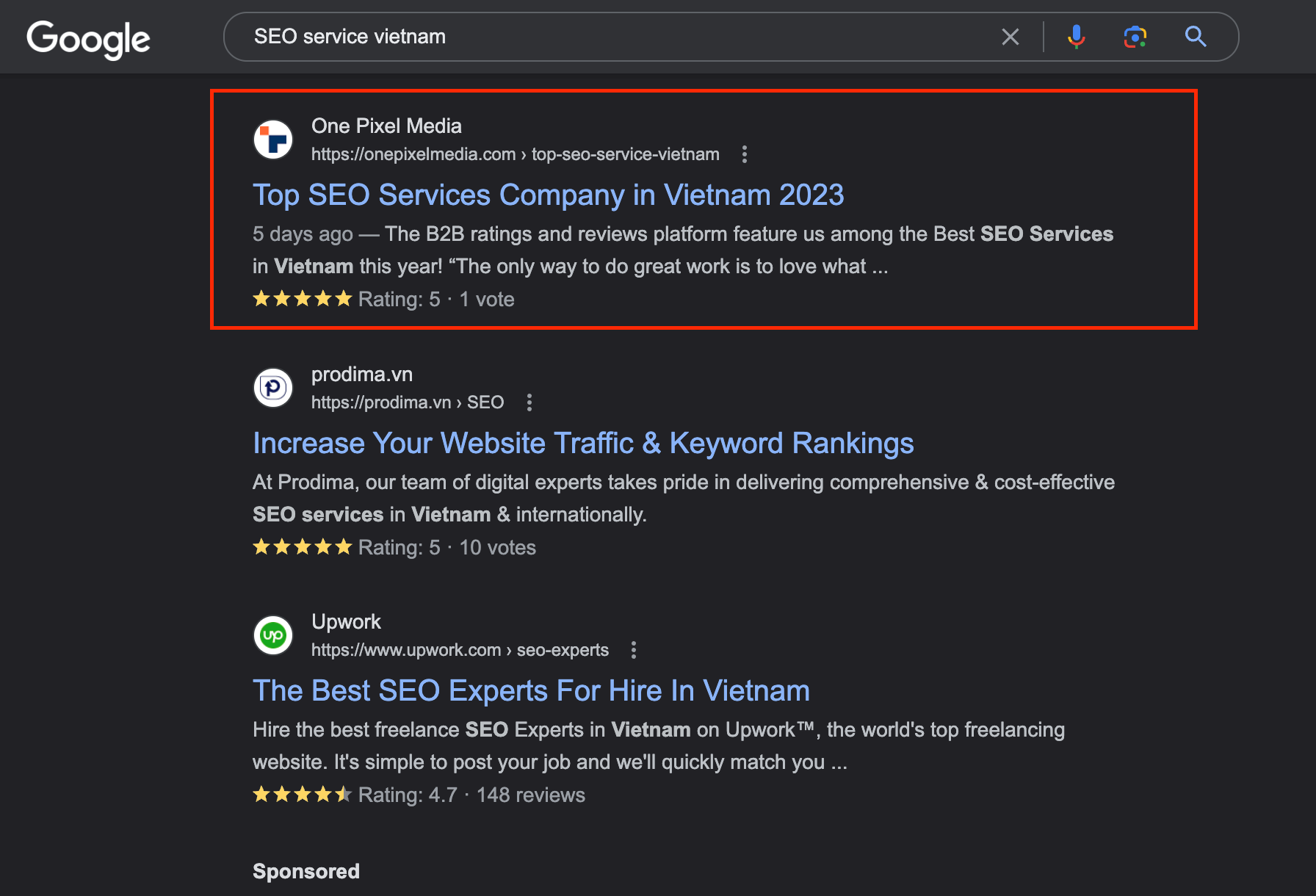 SEOs call this stage doing keyword research. This is a difficult and important period. There are many useful tools that make keyword research easier. Some of these tools are free, others are quite expensive. While these tools will make the difficult keyword research phase easier, you should keep in mind that you cannot outsource keyword research tools.
Related: How to use ChatGPT for SEO: Boost Rankings with ChatGPT
You have to think about the audience you are targeting and about the search terms they are already using, are using, and will be using . It's also important to analyze what you see in the search results pages when entering keywords. Take your time for this stage. It is extremely important. If you do your keyword research effectively, you will have a long list of keywords that you want to rank for (The more keywords, the more ideas, and content to write about).
4. Set realistic goals
For a new website, it is very difficult to rank high in the first time (1-6 months). Older sites have a history, established authority, and have lots of links pointing to them (Backlinks). That means Google crawlers come to old sites more often. To rank a new site, you always need a little patience. And remember: some search terms will be out of reach for a new site because there is so much competition. Trying to rank for the keyword [men's t-shirts] will be quite difficult for a newly created e-commerce website.
If your site is new (1-6 months), try to rank for longtail keywords. Long tail keywords are keywords that are longer, more specific, and have much less competition than popular main keywords.
For example: [men's white collar t-shirt]
After a while, when your website starts to get traffic (Traffic) and rank stable for long tail keywords, you can try and follow Chase the main keywords.
5. Internal Links
As I mentioned in Step 2, Google bot follows links. Google also tracks internal links on your website. It crawls your site according to its internal linking structure. That structure is like a guide for Google. Make sure your internal linking structure is neat, to have a good chance of ranking high. You can learn about Silo structure (a type of website structure), to better understand a perfect website structure.
If you're starting out with a brand new website, you probably won't have much content yet. This is the perfect time to think about structure. It's like having a new wardrobe and you haven't started buying clothes yet. Now is the time to think about what you want to put on the top shelf and what items you want to hide in the back of the cabinet.
So decide which pages are most important to you. What are the pages you want to rank for? Make sure these pages have the most internal links pointing to them
6. Start writing articles, writing articles and writing articles
To get ranked, you need to have content (Content is King). A very important step in getting started with Web SEO is writing useful and readable content for all the search terms you want to be found for. Content analysis in Yoast SEO or Rankmath SEO plugin will help you write that content. Yoast SEO or Rankmath SEO analysis will help you write a text that is both readable and SEO-friendly.
While writing, make sure to use the words you want to be found. Use them in the headings and in the opening and closing sections of your text. After writing the text, you should optimize the SEO title and meta description of that article. The Yoast SEO or Rankmath SEO plugin will help you do all of these things.
7. External links (Backlinks)
External links (Backlinks) are very important to get your website up high in those search engines. But acquiring external links (Backlinks) can be a difficult process. Make sure to write content that people want to share and link to, because if your article is good, people will share it everywhere, and these are the most standard and quality backlinks. Great, valuable ideas and content make the chances that people want to share it.
Of course, if you actively offer, share with people and make them aware of your website and products can also be a way to get external links (Backlinks) . You should read and learn more about Backlinks building strategy or learn what link building (Backlinks) is first.
Follow the steps above and you'll be off to a good start with Web SEO.
What Should I Do For The Most Effective Website SEO?
And of course, to properly SEO for a Website, it takes more than 7 steps. These are just a few starting steps when getting started with SEO. In addition, I also share Tips for Find Top SEO Topics and Keywords Fastest to help you easily increase your website rankings in the shortest time.
Equally important is On-Page SEO, you can check out my article: What is On-Page SEO? Guide to optimizing Onpage SEO in 2023 to make sure your website is qualified before doing any of the following methods.
Conclude
To get long-term high rankings in search engines, you need to work hard. Your content has to be valuable, your site structure has to be perfect (and that's the challenge as your site gets bigger and bigger) and you'll have to keep earning external links that lead back to your site. your website (Backlinks). The only way to really do that, in the long run, is to make sure that your audience enjoys visiting your site, reading the content on your site, and giving them a reason why they should visit your site.
Good luck with your SEO journey. Peace out!