5 Tips for creating an impressive Web Design Portfolio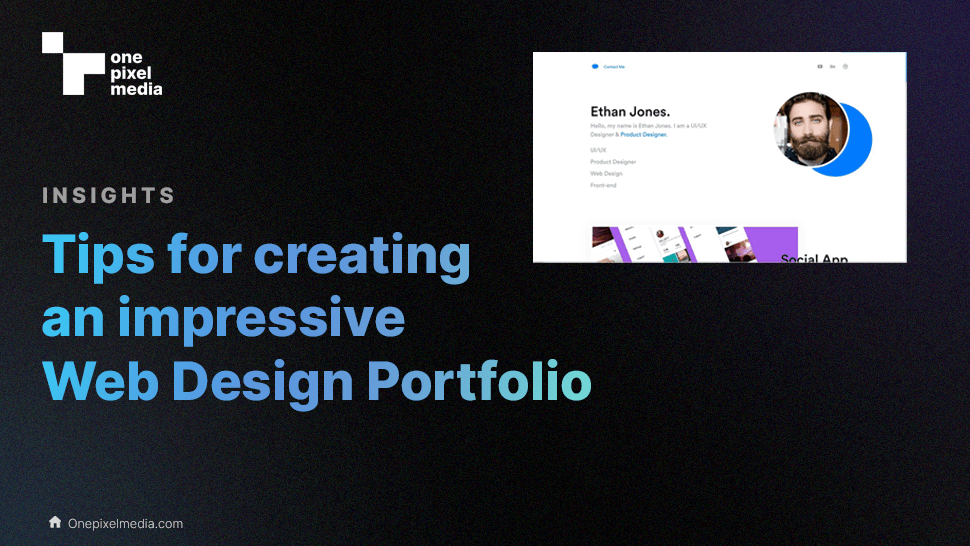 Besides a CV, the portfolio is an essential "luggage" for every designer. A well-designed, beautifully designed portfolio with the most outstanding projects will help you score points in the eyes of employers.
If you don't have any work yet, here's a post about how to sell web design services from DesignRush, Which is really helpful for beginners.
What is Web Design Portfolio
A portfolio is where you showcase your style, skills, and professional experiences. At the same time, the portfolio is also a document that helps employers have the most overview of your capabilities and evaluate whether your design style is suitable for them.
So how to make your portfolio clearly show your design style and make an impression on employers right from the first time? Let's find the answer with One Pixel Media through the article below!
Web Design Portfolio Tips
1. Quality over quantity
Similar to other designs, any piece of content on the portfolio must be selected, ensuring logical and reasonable elements. Do not be too greedy to cram all the projects (projects) you have done!
Take some time to think about the layout and content you want to showcase in your portfolio. Then choose the projects that you are most proud of (8 – 10 projects) and present them impressively. In addition, you can also choose projects that are related or complementary to each other to create logic for your portfolio.
2. Stand out in a crowd
Let your portfolio reflect your design style so people know who you are and what you can do in this creative industry. You should choose for yourself a clean design style but need to stand out from other Designers.
The design style here is not a design that appears throughout the portfolio but the way you create common ground for projects and show your signature in them. Carefully select the projects that best represent the design style and present them as impressively as you are aiming for.
3. Pay attention to image quality and content
After selecting the projects that will appear in your portfolio, the next thing you need to do is present them in an impressive way. It will be a huge minus point if your portfolio is designed very beautifully and carefully, but some images are out of focus when displayed on large screens. So, pay attention to choosing high-resolution images, avoid using screenshots as well as be careful if you want to cut close-up product details to avoid breakage!
Besides high-quality images, you must include more content in your portfolio. For each project page, add a title and short description explaining how the idea was conceived and the design process. This will help the employer understand somewhat the story behind your design thinking.
4. Optimize your portfolio
User experience is important, so make your portfolio stand out in terms of design and easy to read for your viewers. Always remember, recruiters will scroll through very quickly, so organize the pieces of content so that they can capture important information at once.
Don't use too many colors, fonts, or fancy effects, keep them consistent and focus on arranging the layout, creating empty spaces between pieces of content to make the portfolio easy. easier to read and understand.
5. Keep your portfolio Fresh
Regularly updating to refresh your portfolio is very important to help employers see what you are doing and the development of your design thinking and abilities. Not only applies to completed projects, but you can also update completed projects so that everyone knows what you've done in the past.
You don't have to update all the new projects, but choose the ones that stand out and spend your time getting rid of the old, inappropriate ones. Update your portfolio every 6 months or at least annually to ensure new projects are always added. But always keep in mind "quality over quantity".
In addition, you should post the projects you have done on popular online platforms such as Behance, Flickr, Dribbble,…. to share and discuss with designers around the world. This is also an opportunity to help you learn more about design or even get a chance to get web design awards.
Not only widely used in the field of design, but the portfolio is also widely applied in many creative industries: photography, content, etc. If you are struggling to know how to design an impressive portfolio, Please read as much as possible and try to apply the tips above. And if you know any other useful tips, please share them with One Pixel Media and other Designers!